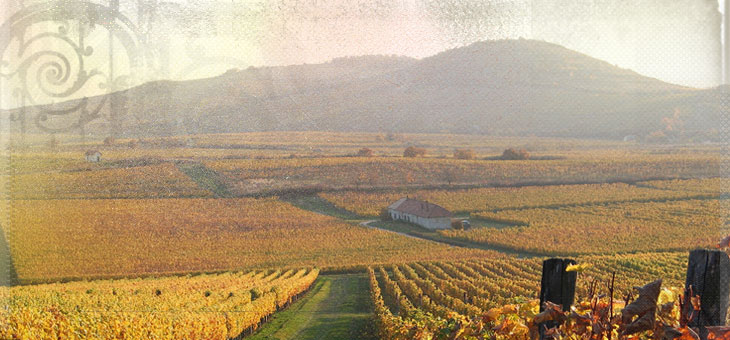 "We are over the 40 years wandering…" An interview with György Lörincz
Established in 1999, György Lörincz's St Andrea Winery in Eger is synonymous with elegant refined wines. He grows 18 different grape varieties, consciously looking for the tastes that are individual to a piece of land. In addition to being awarded "Best Hungarian Winemaker" in 2009, he was also named as the best Eger winemaker and received the Hungarian Order of Merit in 2007.
For anyone who hasn't heard of Eger before, can you give a bit of an introduction to the region?
Eger possesses a very favourable terrain for grape growing. It is situated in the North East of Hungary between the Mátra and Bükk Mountains.  The valley of Eger is surrounded by 200-300m high hills, and on the North-eastern part of the town lies the Great–Eged Mountain, which is more than 500m in height. The soil of the production areas of Eger is primarily brown forest soil formed on volcanic, rhyolite tuff (tufa).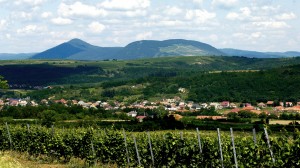 (Click to enlarge photo)
Eger and its surrounding villages have been inhabited from the 10th Century, but from the point of view of the history of the wine region it is also important to know that a 30 million year old grape leave fossil "Vitis Hungarica" was found in the slope of Small–Eged Mountain.
After the Mongol invasion in 1241, the depleted population and lack of working power made King Béla (our first King) settle foreigners into the country, and it was probably at this time that Walloons ( French speaking community in Belgium) arrived in Eger, bringing French grape cultivation methods and barrel aging of wines. It was also during the Middle Ages that the wines of Eger started being exported to European countries and overseas. The most important foreign markets were Poland and Germany. 
During 18th century white grapes remained dominant, but red wines started to gain ground. Producers aged their wines in their natural wine cellars carved in rhyolite tuff under the town to ensure the best cellaring.
Eger is sometimes referred to as the Burgundy of Hungary, with the Southern Regions of Villany and Szekszard being Hungary's Bordeaux. Do you think this is a helpful way of characterizing Eger? Is there is any truth in this comparison?
Among foreign markets there is a real lack of awareness of the wine regions of Hungary, so maybe it can help us if the basic characteristic features of our wines are compared to an already well-known product. In my opinion I think there is some truth in this comparison, however I believe it will still be some decades before we can say "this wine is from Eger, Szekszárd or Villány."
Eger and Szekszard are the only two regions of Hungary permitted to produce "Bulls Blood" – nowadays known as Bikavér. How does Bikavér differ between the two regions, and what are the rules for how Bikavér must be made?
Egri Bikavér must come from one of the areas of Eger legally permitted to make it. Cultivation methods, grape yield per hectare, grape sugar content, and spacing between vines is all controlled by law, as is maceration period. All Bikavérs must be barrel aged.
The base of Egri Bikavér must be the local grape, Kékfrankos. There are 13 other permitted varieties – the recommended grape varieties are Kékoportó, Kadarka, Blauburger, Kékmedoc, Zweigelt, Cabernet franc, Cabernet sauvignon, Merlot and Pinot noir. You must have at least three grape varieties, and you cannot use more than 50% of any one grape. In the Bikaver Superior category the number of blended varieties must be at least 5, and you cannot have more than 30% of any other varieties besides Kékfrankos.
The difference between traditional Egri and Szekszárdi Bikavér is primarily a result of the production area. The szekszárdi, because of its soil loess, produces a very nice, ingratiating, nicely textured, velvety wine. Eger possesses a more rustic, "dominant" character thanks to volcanic originated rhyolite tuff. 
In the past you have spoken of the need for Eger to define itself, and the character of its wine – has there been progress on this? Is it possible to say what a characteristic Eger wine is like?
Of course, in Eger, as in any other region of the world, there are different types and categories of wine, but in my opinion, the wine of Eger is determined, powerful – not luscious though. Fine, exciting, well matured and very aromatic. Energetic but elegant after 4-6 years. But more vintages are needed to get a real, clear picture about it.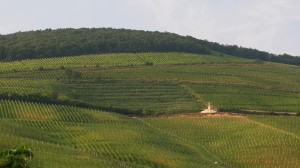 Wine making in Hungary has made huge advances in the past few years, and in many ways this is a period of great experimentation and rediscovery. But you have also mentioned that there is a certain amount of stubbornness and resistance to change. How would you characterise modern Hungarian wine making? 
The differences between today's Hungarian wine and the ones 30 years ago are huge. Development of vineyards and wine production is very intense, but not everybody is changing at the same pace. At those places where socialist conditioning stayed, change is slower. So the modern Hungarian wine is ambiguous. On the one hand, type wines produced by up-to-date technology, on the other hand high quality Hungarian wines reflecting the uniqueness of the producing area and tradition.
What developments would you like to see in Eger?
I would like the Eger wine region to concentrate on Egri Bikavér and Egri Csillag (Star of Eger) wines. Egri Csillag is Bikavér's white wine counterpart, and has been in existence since the vintage of 2011. Like Bikavér it has a minimum number of grape varieties (four), a permitted list of grape varieties, and rules regarding the ratios (there must be more than 5%of any grape used, but less than 50%). Varieties are split into those of the Carpathian Basin: cserszegi fűszeres, hárslevelű, Irsai Olivér, királyleányka, leányka, olaszrizling and zenit, and other varieties: chardonnay, muscat ottonel, pinot blanc, rhein riesling, yellow muscat, sauvignon blanc, pinot gris, traminer. At least 50% of the grape varieties must be from the Carpathian Basin. All Egri Csillag wines must be dry.
Is Hungary still recovering from the impact of Communism on its winemaking? How is the Communist legacy still affecting wine making in the country?
The most important impact is that European minds still think of the wine of Hungary and our Egri Bikavér as simple and mass produced. People think our wines are not "exotic" so why should they taste them? It is a very difficult heritage.
You grow 18 different grape varieties in your vineyards – is this because you are still trying to determine what grapes have the best results in Eger, or do you feel you need many different grape varieties to produce the specific type of wines you are looking for?
I feel this range will be reduced in the future, but the fact that we have many varieties is due to the tradition of our wine region. Maybe our ancestors were looking for a unique grape and in the end they found a unique wine – Egri Bikavér. The other reason is that when I established our estate there was less risk with international varieties, so these were planted on our vineyards.
These days we plant more varieties from the Carpathian Basin year on year, such as Olaszrizling, Hárslevelű, Furmint, Kékfrankos, Kadarka. The proportion of these varieties has grown continuously. In my opinion, if more varieties are in a wine that gives it a wider spectrum. For us in Eger this blended wine making is a given, therefore I have to follow this way and improve it year on year.
What grape varieties seem to produce the best results in Eger?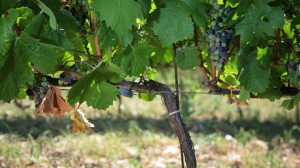 In my opinion the most important grape variety is Kékfrankos now. Very exciting and unbelievably colourful. Spicy, determined, luscious and expresses the producing area the best. So it is not accidental this variety is the soul of Bikavér.  But of course we need more experience – we have to find its appropriate version, the best production sites, soil types and cultivation methods to bring this variety to its peak. We will find it sooner or later, as we have done with Hárslevelű, Olaszrizling or Furmint.
Does St Andrea have an ethos or concept behind its wines?
Yes, we do! I try to reflect God from our life. He created a wonderful world and exciting production areas for viticulturists living here. I would like people tasting his love from our wines.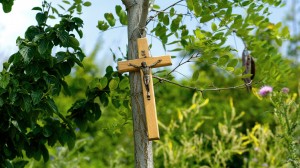 We often get asked at out tastings about the difference between Hungarian oak, as opposed to American or French?
I have always used Hungarian oaks. Of course I have tasted wines aged in different kinds of oaks and I know foreign barrels are of a very high standard. But barrels made of Hungarian oak are being demanded more and more by many dominant wine making countries. I think Hungarian oak is not as intensely spicy as American or French oaks but it can be very complex and sophisticated.
There is a growing interest internationally for lesser known, indigenous grape varieties. Do you think Hungarian wine producers should be focusing more on their indigenous varietals?
Of course this is the basis of everything. Besides the production area, a unique wine is determined by the local grape variety. In my opinion for this a very good example is furmint, giving unique wines in our inimitable wine regions. I think as a first step, we have to find these local varieties (that work best in particular regions) then everything else will follow.
What do you think the future holds for the wines of Eger and Hungary more generally?
The feedback I receive about Hungarain wines absolutely makes me stronger, Hungarian wines have a very serious future. We have to adapt to today's market behaviour, but this will happen also. There are more and more lively wine making communities in Hungary. This is not a one day project – it is a long process that needs patience. But we are over the 40 years wandering.